DISCLAIMER:
The only purpose of this web site is to give some information about concert recordings circulating amongst Zappa collectors. This is no catalogue for so called "bootlegs". I don't trade. Requests are useless.
It's not at all pleasing, that the Zappa Family Trust (ZFT), lead by Gail Zappa herself, has begun a worldwide crusade against everyone who, justified or not, might be suspected of using some material of the master. It might be understandable when Kill Ugly Radio is forced to stop offering the "bootleg of the month" for downloading, but it looks very strange, when well-known cover bands like Bogus Pomp (US), Project/Object (US) or Sheik Yerbouti (GER) are forbidden to play Frank's music live. It's like the Vienna Symphony Orchestra isn't allowed to play Beethoven and Mozart ! Btw, Frank himself has covered several tunes written by other artists. It also looks absurd when the ZFT ist trying to get rid of the greatest annual European Zappa festival, the Zappanale in Bad Doberan, Germany.
To avoid possible legal treatment I touched up all of Frank's pictures and even changed the subdomain of this web site. That's paranoia, really !
Dear Gail, what do you think why even nowadays there is such a huge interest in your husband's work, who sadly died much too early ? It's US, the fans, devoted to Frank as a person and musician, who keep the memory alive and pay reverence to Frank by running web sites like this. Not to mention the many gifted musicians, who play Frank's music with great enthusiasm in order to fill it with life. Do you really think little Dweezil is the only person, who is able to celebrate the work of the master with inspiration ? To be honest, Zappa Plays Zappa is just another cover band from L.A. ... or let Frank say it in his own words: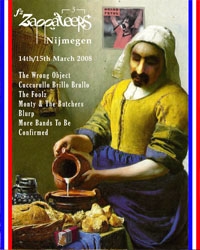 Zappateers Festival
Nijmegen (NL)
14th + 15th March 2008
For more info ask the Zappateers.
"At that very moment noone tries to bootleg my concerts, people have lost interest in my music."
(F.Z.)
"The present-day Zappa collector refuses to die."
( Claus, Copenhagen (DK), collector )
My wants
If you have got any of these shows, please let me know. I only need two more shows to complete the 88 tour.


14 May 1988
FZ
Madrid, Spain
23 May 1988
FZ
Strasbourg, Hall Tivoli, France

some more wants ...
Terms of trading
On 13th September 2003 copyright laws in Germany were tightened up drastically. Copying of music media except for private safety copy was as well prohibited as giving them away to a third party. At this time any trading is made impossible. Sorry folks, but blame it on the music industry. Seems they try to criminalize nearly every music lover even people who won't ever make a buck with their low quality bootlegs and won't cause any commercial damage.

Just for your information: I have bought every single official Zappa release myself on LP/CD, sometimes both releases. If you want more, I feel with you.
Web Sites

Who was behind the DPFRCZDR Team (r.i.p.) ?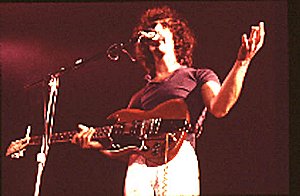 The abbreviation stands for Didi , Phil & Forest Real Crazy Zappa Devotees Recording Team and this is our story:
Once upon a time there were two music maniacs. Only 16 years old they discovered the strange music of a certain Frank Zappa and his combo called "The Mothers of Invention" in the early 70's. Surprise and confusion about this new musical dimension rapidly changed into boundless enthusiasm, which lasts until today (January 2022). The breathtaking live statement "Roxy & Elsewhere" was a milestone in the record collection of our two young music lovers. The collections have grown over the years, the album is a milestone even nowadays and was finally released some years ago as 7-disc set and film on DVD/BR.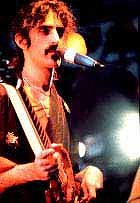 It should be mentioned that at this point none of the two knew each other and this would last for some time later on. Phil was allowed by his mother to pay homage to F.Z. in Paris, while Didi had to be content with his record player. "A boy at your age won't travel to a rock concert in Cologne" his parents told him concerned about his musical taste.

Despite of this the boys' enthusiasm could not be stopped and their record collections kept growing continuously. In the mid-80's the whole official Zappa back catalogue was stored to the shelfs and the chase after rare concert recordings started. In the late 80's flea markets and CD stores were a gold mine for half-legal bootlegs. A grey area in European laws made trading concert recordings on CD possible. These sources have been dried up some years later. Then the internet came in ...

Some time ago Didi built up this web site, and in January 2001, Phil stumbled over it by chance. Cautiously a first exchange was confirmed, a second one followed and then barriers broke.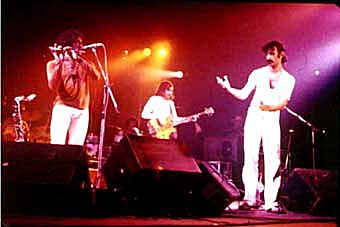 The "Real Crazy Zappa Devotees Work Team" was born. Phil encouraged Didi to record his old vinyl treasures on minidisk, so he could transfer them on CD with improved sound quality.

It didn't take a long time and the German-French co-operation changed into a transatlantic alliance. Forest from the US joined our two fellows contributing extraordinary musical items to their common work. Moreover Phil made contacts to a French fanclub, which helps to keep our Zappa universe expanding.
And the fairy tale continues ...
So far, so good, that was 2001 ... and like every true story it comes to an end. After 2 years of trading Forest has vanished in the void of the web and Phil has quit to follow his very personal philosophy of Zappa as his idol and teacher. Good luck, fellows, we had a great time building up a fine collection. That leaves me hunting the last missing details of the Zappa universe. No collection will ever be completed ...
Didi (2008)