Just another tribute band from L.A. ?
- review -
As suggested by the name ZpZ plays Zappa and nothing else. In summer 2005 it is rumoured that Dweezil Zappa has planned to celebrate the music of his godfather Frank together with his brother Ahmed on a world tour. Tickets for the better seats were sold out immediately and I was lucky to get hold of one, center second row right in front of the stage. Guess my disappointment when the show was cancelled for no reason and postponed to a later date in May 2006. Then 5000 people in the nearly sold-out Philipshalle in Dusseldorf got excited when Dweezil and his new band entered the stage. Together with some good old fellows of his father, Napoleon M. Brock, Steve Vai und Terry Bozzio, he went on a two and a half hours 'tour de force' through the repertoire of the master. At the end of the show everybody was enthusiastic and the band got standing ovations. Overwhelmed by such success Dweezil promised to return to Dweezildorf, how he called Dusseldorf with affection, on the next tour. Unfortunately my all-time favourite 'The Torture Never Stops' was missing that evening.
One and a half year later in October 2007 Zappa Plays Zappa took the opportunity to play at Philipshalle again but this time only 1200 listeners found their way to the venue. Only a third of the hall was used and the rest was covered by curtains. What has happened ? The setlist was well-chosen and as exciting as on the last tour without overlapping. Okay, bad enough 'Torture' missed the set again, but 'Dupree's Paradise', the 'Pimp' and the 'Enema Bandit' were good replacements. Obviously some fans had lost interest in a tribute band like ZpZ. Is this the reason why the Zappa Family Trust (ZFT) started a world wide crusade to stop other tribute bands to play the music of FZ in public ? Or is Gail Zappa afraid of the fact that other musicians could play the music of her husband as inspiring as her son Dweezil ? Is ZpZ just another tribute band from L.A. ?
For the records: Zappa Plays Zappa IS a tribute band but listening to the double dvd it quickly becomes clear, that it is NOT SOME tribute band at all. Dweezil has been breastfed with the music of his father and joined stage with him when he still was a boy. The guitar duets in 'Stevie's Spanking' (1982), 'Sharleena' (1984) und 'Wippin' Post' (1988) will never be forgotten. There hardly is another guitarist who is able to reproduce Frank's guitar sound and technique authentically enough like him not doing without his own style as well. The summit of perfection was reached on the 2007 tour when Dweezil and his band played 'Cosmic Debris' and 'Muffin Man' together with FZ projected on a large screen in the back of the stage. Like many other fans I was crying with tears in my eyes.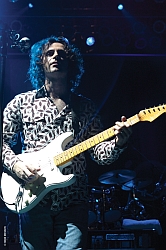 The unforgettable atmosphere of ZpZ playing live in concert was perfectly captured for this double dvd. Dweezil has found a couple of brilliant musicians who manage to play even the most complex parts without any problem and always with a fine flair for the masters intentions. To mention the great work of every single band member in detail would go far beyond the scope of this review.
Having engaged the 'old fellows' Dweezil has made a very clever tactical decision. In first place there is Napoleon Murphy Brock who in the 'good ol' days' was the singer of The Mothers of Invention. So, for every Zappa freak his voice is attached to some of the well-known songs. Suffice to say he even plays sax and flute on a very high level. Let me for example point out the power of 'Zomby Woof' where in fact NMB musically explodes. Second there is Steve Vai, a guitarist who played lead and rythm guitar with Frank in the 80's. Beside Steve's fine soloing there are to be found some breathtaking guitar battles between Dweezil and him on these dvds. The ultra long (over 15 minutes) version of 'Trouble Every Day' features the absolute guitar highlight at the end of dvd 2.
In the middle of the set, after the break in the real concert, Terry Bozzio joins the band on drums. This guy is not only a simple drummer, he is an animal, what do I say, a monster behind his drum kit. Who has the biggest drum kit in the world ? In the 70's Keith Moon of The Who wanted to have more drums on stage as any other drummer and in those days Neal Smith of the Alice Cooper Band was his only competitor. Seven, eight, finally ten drums were carried on stage by Mr. Moon accompanied by numerous cymbals. Todays super drummers use to smile about such an effort. Mike Portnoy of Dream Theater for example and Neil Peart of Rush use to play double drum kits built on a special rotating stage, but Terry Bozzio is the one and only drummer who has three different bass drums, twenty (!) toms, snares and whatever drums as well as countless percussive instruments in ONE drum kit. During his 9-minute solo following the guitar frenzy in 'Trouble' the camara takes some great shots from above the drum kit leaving the astonished listener alone with the question how a single man manages to handle this arsenal in such a virtuoso way with only his two hands and feet. That's pure madness, really ! Today Keith Moon would have fun watching this ... and for sure he would own an even bigger drum kit. ;-)
The setlist varies a lot, but every ZpZ concert lasts nearly 2 and a half hours minimum. Knowing this and to capture as most songs as possible two shows were put together to one 3 and a half hour dvd concert without any recognizable break. Great ! The show starts in the 60's with songs like 'Call Any Vegetables', shifts into the 70's with 'Yellow Snow Suite' and ' Inca Roads' (fantastic guitar by Dweezil) and leads right into the 80's by the appearance of Terry Bozzio ('I'm So Cute' and 'Trying To Grow a Chin'). Playing the hammer live songs at the end ZpZ reaches the climax: 'Black Napkins', 'Trouble' and, after all, 'The Torture Never Stops'. For the encore the audience has to choose between 'Regyptian Strut' and 'Sofa' by clapping as loud as possible for every song. Of course, the choice was 'Sofa' but don't mind, the 'Strut' has been put on the dvd as well. On their European leg of the tour ZpZ had some different songs on the setlist not to be found on these dvds ('Hungry Freaks Daddy', 'King Kong', Imaginary Deseases'). The other way around the European fan gets a nice pack of songs only played on the US tour leg, that means the band must have rehearsed more than 4 hours of material. Fantastic.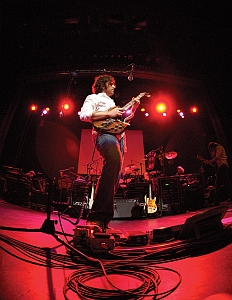 The band consists of lesser known young musicians, but what does that mean ? Every member of the band is a virtuoso on his instrument and is absolutely capable of playing the music in the master's sense. Scheila Gonzales for example is an outstanding player who handles a variety of instruments with perfection. Joe Travers on drums has no problem to hold pace in a drum battle with Terry Bozzio, even on a much smaller drum kit. And on percussion, that sounds like Ruth Underwood, doesn't it ? No, completely wrong, it's Billy Hulting weaving an incredible sound floor for his band mates to act on. N.M.B. , in my opinion the best singer of the Mothers from the old days, fits perfectly into the young band with his warm and strong voice. Only in 'Torture' he sounds a little bit too rough so he does not hit the dark and gloomy atmosphere of the title perfectly. Dweezil is a nice guy guiding the audience through the set by his friendly annoncements. As a musician he plays the difficult guitar parts with easiness but not as spontaneously as his father. Like him the whole band is highly concentrated and acts a little bit too static. The arrangements are close to the original with some imbedded improvs here and there. May be some more courage for a wider interpetation would be more thrilling for the listener. What would the master himself say ? Or is Mrs. Zappa crying for blasphemy ?
The technical realization of the dvd with animated menues, track selection and audio setup (2.0 and 5.1) is quite simple but ok. The video quality is great, the camera setting is professional and settles the watcher right into the middle of the band. Dweezil has a small camera on the neck of his guitar, so it is possible to watch him playing from an unusual position. Dvd 2 contains some bonus material, a short interview with Dweezil and a live video of 'Cheepnis'. That's not quite a lot but facing the long concert noone really needs anything else.
To sum it up, ZpZ is NOT just another tribute band from L.A. . Dweezil Zappa has presented an impressive retrospective on his father's work showing that Frank's music hasn't lost anything of its intensity and freshness during the years since his death. FZ is a timeless genius and this cd/dvd package is a must have. Meanwhile the package can be ordered in region code 2 (Europe) from various online shops.
(c) 2008 by Didi